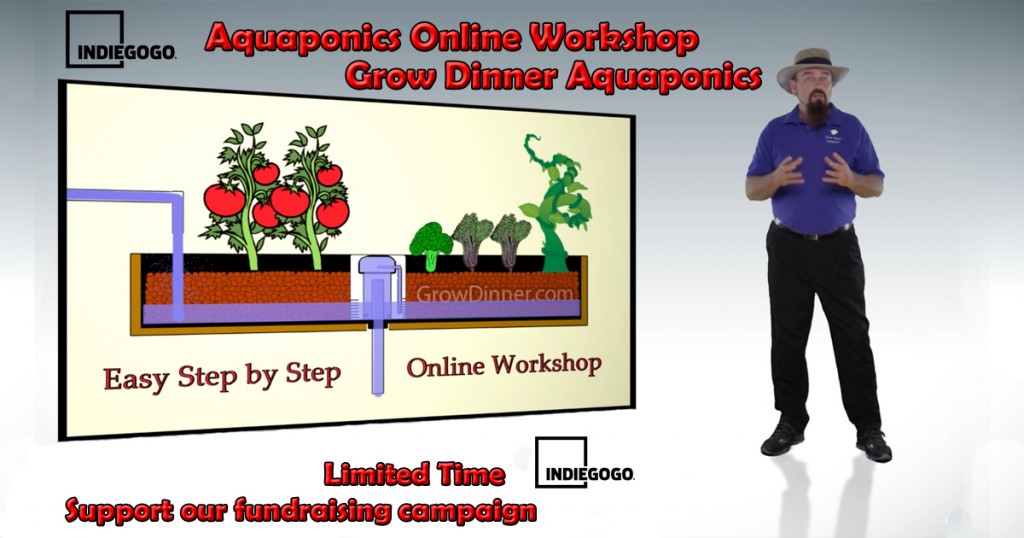 We have discontinued our hands on workshops at our farm and planned to do online classes. A project such as this is quite expensive because a graphic artist, camera crew and film editors are needed. To help cover production costs we allowed people to pre register though a fundraising campaign. It was an all or nothing campaign. In other words, we meet our goal or else we get nothing and everyone receives a refund.
Unfortunately we did not meet our goal
A FEW TOPICS IN THE EXTENSIVE ONLINE CLASS
To help cover production costs we are offering you an opportunity to pre-register for our online workshop. A project such as this is quite expensive. A graphic artist, camera crew and film editors are needed.
If we do not meet our campaign goal, IndieGOGO will refunded your money and this project will be unable to move forward.
Watch our fundraising video & learn more about our Aquaponics Online Workshop
How does the online workshop work?
After preregistering for the online workshop, we have meet our goal and the classes are complete you will receive an email with the web address and log in information to the online workshop. You will be able to access 24/7 whenever wherever you like and start learning at your own pace.
Your online subscription is good for one year and can be watched as many times as you like during the one year.  After you login the setup will be similar to the chapters of a book. Making it easy for you to watch in short segments or chapters covering different topics.
The last few years we received great support for our 8 hour hands-on workshop here at our farm. The new online workshop will cover every subject that was covered in our one day 8 hour hands on workshop that was held here at our farm but more in-depth plus other topics that we did not have the time for in our 8 hour hands on workshop. 
For instance, chapter one we will discuss greenhouse positioning for best performance.  Some basic greenhouse methods of construction including what to consider for different zones for colder climates vs. warmer climates.  We will be covering how to design your Aquaponics system and establishing a budget. 
We will have a chapter on the different types of grow systems I have used for growing plants. The advantages and dis advantages I found with each one and the climate they are suited for. I will be including an aquarium chapter for folks with freshwater aquariums so they can grow food or other plants and avoid all those dreaded water changes.  You will find a chapter on IBC tank Aquaponics of how I design my IBC systems that can be used on a patio or in a greenhouse. I will share with you how I have converted my Koi pond to Aquaponics that can be used for koi or other fish and grow food at the same time.
We will have an entire chapter on the different types of fish I have used over the years including the advantages and disadvantages of each one. If your choice is tilapia for your system, you will find we will be covering the entire breeding process including converting a 55-gallon fish aquarium to a highly efficient breeder tank that can produce hundreds of babies a month. 
We will cover pumps and pluming, filters and the interworking of my systems.  Even how to start your plants for Aquaponics.  After watching the online workshop, you will have a clear understanding of how to design build and grow your own food producing fresh vegetables and fish for your family. This online workshop will include easy to understand displays and animated working drawings so you can see the inside of pluming and beds etc. Things that would be impossible to see from pictures or videos of a working system. Keep in mind the clock is ticking on our fund raising campaign for us to meet our goal and make this possible.